Luggage transfer – Conditions
This document makes reference to the conditions for Tournride's customer luggage from the starting point of the Way of St James to the end point. This service aims to facilitate customer's transfer of necessary objects in your trip and avoid carrying heavy baggage during your bike's journey. Making the Way of St James on bike was never that easy.
Baggage collection will be in the customer's hotel. In the case you haven't booked accommodation in the starting point, please contact us. All the baggage have to be tagged with the following content: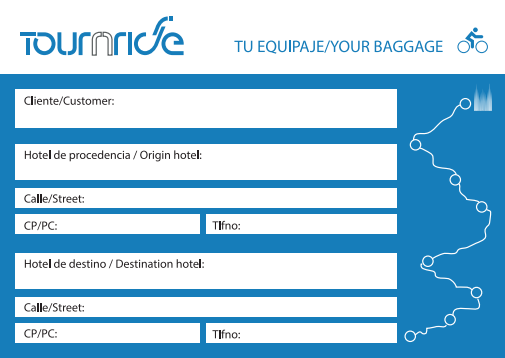 If you want, you can download the label . This label will be useful to the receptionist to know that it's yours.
We'll send a courier label with a barcode that must be attached to every parcel.
Once the baggage is in reception prepared with its label, the customer must notify us by email, phone or web contact to order the collection of the baggage.
Our web system will give the baggage transfer's price during booking process.
The information relative to regarding the number of packages and estimated total weight should be as exact as possible, always rounded to the upper weight range.